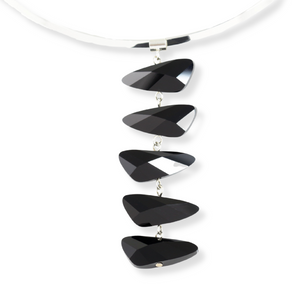 Reflections Necklace in Black
Sale price Price $120.00 Regular price
This necklace will make you feel fashionable and sophisticated! The crystals are a solid black and would complement any color. The wing shaped crystals have precision-cut facets and uniform color to create a shower of light reflections. 
We are using only the finest quality crystals in the world.
VERSATILE DESIGN! You can easily remove the pendant and wear it on a chain or a ribbon of your choice.
Buy as a Set and save!

Materials: Crystals, Silver Plated Brass, Sterling Silver
Length: neckwire – 16 inches, pendant – 3 inches