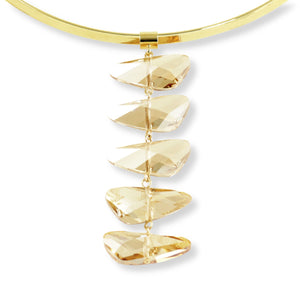 Reflections Necklace in Gold Shimmer
Sale price Price $120.00 Regular price
This necklace will make you feel fashionable and sophisticated! It is one of the most popular crystal shades ever made. Gold Shimmer is a soft, elegant, light golden color with an exceptional radiance that blends perfectly with a multitude of colors. 
We are using only the finest quality crystals in the world. 
VERSATILE DESIGN! You can easily remove the pendant and wear it on a chain or a ribbon of your choice.
Buy as a Set and save!
Materials: Crystals, 14K Gold-Filled, Gold Plated Brass
Length: neckwire – 16 inches, pendant – 3 inches